About
I left Brazil at the age of 23 and have been living in Europe ever since. The question of personal identity as a socio-cultural construction and my own status as a foreigner are the starting points of my artistic thinking. I developed my own shooting technique, the "scanogram" – a way of looking at things without a central angle or focus, as is usual in photography.
Statement
My questions are directed towards cultural identity, continuity, the vulnerability of the individual, and finally towards the global consciousness of cultural differences and peculiarities. The change of perspective inherent in my working technique corresponds with this perception: the "scanogram" is a term that alludes to a direct technique in analogy to the history of photography (cf. "photogram"). Constructed to digitize documents, the scanner has neither lens nor focus. It only knows juxtaposition. It feels its way forward with indifferent precision. Everything that is superficial is equally bright and sharp, everything that goes deeper loses itself in the dark without perspective. He is as immoderate as he is presumptuous. It is a contemporary instrument. (Werner Knoedgen) Over the years I have worked with a variety of media including drawing, performance, video and sculpture. In 1995 I started working with industrial scanners and experimented with everything that seemed suitable for scanning until I came across tulips – a common theme in baroque still life painting, especially in the Netherlands. The meaning of flowers depends on the cultural context of the viewer. I am very interested in the diversity and plurality of perceptions in relation to their different cultural heritage. Social identity in the age of globalization can be seen as a transcultural phenomenon and as a confrontation with Western colonialism and imperialism. I have great respect for nature and the environment. Much of my work is based on samples from nature in given contexts, such as my research project in the Amazon forest. Artistically, I concentrate mainly on color effects that tend towards painting.
Education
1984 - 86 | "Bildende Kunst", Sorbonne Paris (FR)
1977 - 81 | "Geschichte", Université Paris VIII Vincennes (FR)
Institution (Work Experience)
1988 - 2010 | Dozentin im Studiengang Figurentheater, Staatlichen Hochschule für Musik und Darstellende Kunst, Stuttgart (DE)
Selected Awards
2011 | Casa de las Américas, Havanna, Premio de Fotografía Contemporán (CU)ea, Cuba
Selected Exhibitions/Publications
2019 | Foundation Prussian Gardens and Palaces, Schloss Caputh (DE)
2019 | Me Collector´s Room, Berlin (DE)
2018 | Sanya Museum of Contemporary Art, Sanya (CN)
2018 | Museum Ijsselstein, Ijsselstein (NL)
2017 | Curitiba International Biennial of Contemporary Art, Curitiba (BR)
2017 | Centre d'Art et de Nature, Domaine de Chaumont-sur-Loire (FR)
2016 | Galerie Schlichtenmaier, Stuttgart (DE)
2016 | Archives Nationales, Paris (FR)
2016 | MAM Museum of Modern Art, São Paulo (BR)
2015 | Fabian & Claude Walter Galerie, Zürich (CH)
2014 | Galerie Mikael Andersen, Kopenhagen (DK)
2013 | Pinacoteca do Estado, São Paulo (BR)
2012 | Tokyo Art Museum, Tokyo (JP)
2010 | Galerie Nara Roesler, São Paulo (BR)
2009 | Centre d'Art et de Nature, Domaine de Chaumont-sur-Loire (FR)
2006 | Künstlerhaus Bethanien, Berlin (DE)
2005 | Istanbul Biennale, Istanbul (TR)
2002 | Württembergischer Kunstverein, Stuttgart (DE)
Works
Luzia Simons | Stockage (1996 - ongoing)
Luzia Simons | Stockage (1996 - ongoing)
Luzia Simons began the Stockage series in 1996 and has been developing new image modalities ever since. The artist uses a scanner for her compositions. These "scanograms" - a technique developed by her - are then produced using a light-beam printing process and mounted in a high-gloss finish, both in smaller and monumental sizes. In Luzia Simons' work, the flower still life receives a multi-layered cultural and socio-political message. The artist deals with the history of the tulip, which became an important symbol of identification both in the Orient and in the Occident. Out of this history, Luzia Simons' tulip becomes a metaphor for globalization, intercultural identity, and cultural nomadism. The artist poses the question of the rootedness of the individual in today's world. What gives us home, what creates identity?
Credits
Work:
Luzia Simons | Stockage (1996 - ongoing)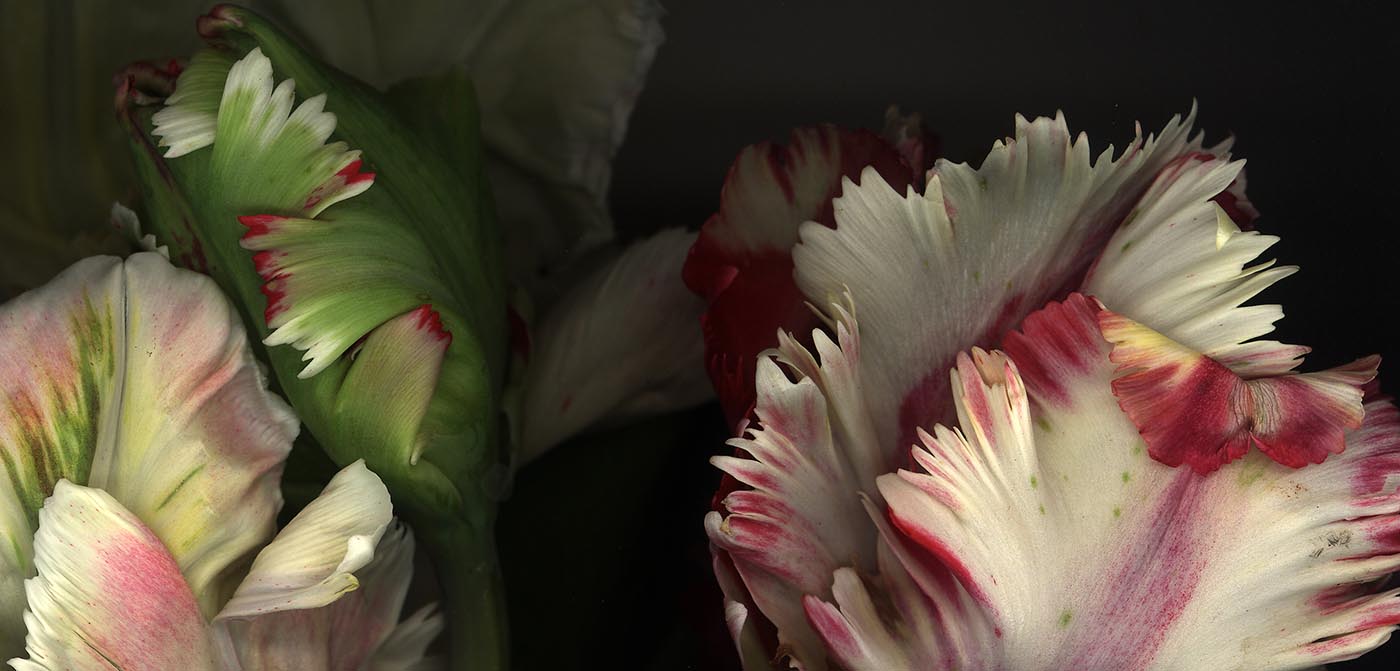 Luzia Simons | Humboldt has never been there (2013 -2017)
Luzia Simons | Humboldt has never been there (2013 -2017)
Luzia Simons undertook two research expeditions in the Amazon region. The series "Humboldt has never been there" consists of 12 black-and-white photographs depicting the rainforest from different perspectives. As the title says, naturalist Alexander von Humboldt has never been able to explore the Brazilian Amazon. Here the artist used an old Polaroid film whose aesthetics resemble the blurred contours reminiscent of historical documentary material. At the same time, the modern technique of a dye-transfer process, in which the photos are applied to aluminium plates, gives the pictures a three-dimensional effect. The series "Jardim", compositions of various tropical plants, is influenced by the gardens of the modernist Brazilian landscape architect Burle Marx.
Credits
Work:
Luzia Simons | Humboldt has never been there (2013 -2017)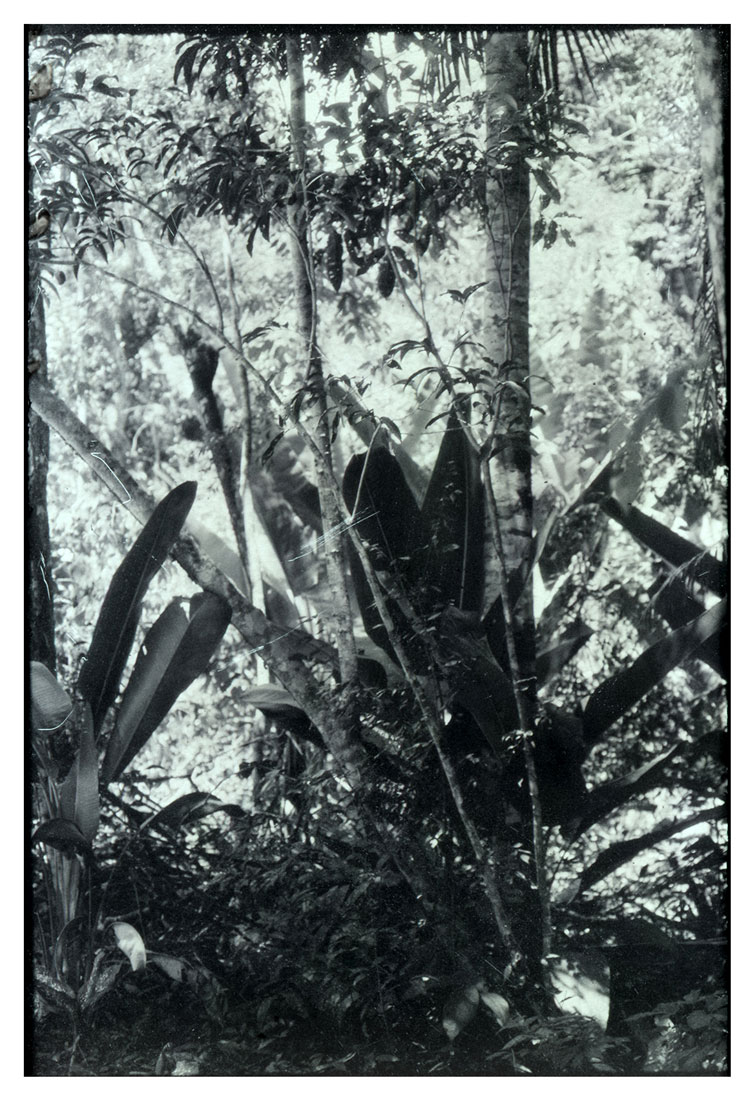 Luzia Simons | Blacklist (2013 - 2015)
Luzia Simons | Blacklist (2013 - 2015)
"Blacklist" is the series title for scanograms with cultural-historical reference to the tradition of Herbaria. In the arrangement of the details against a neutral background – a systematic in the work of Luzia Simons – these filigree works seem like a homage to Maria Sibylla Merian (1647-1717). In her numerous studies Merian created the "Metamorphosis Insectorum Surinamensium", in which she founded entomology. Luzia Simons recreates such fragile creatures with botanical elements, giving birth to alien-like insects in a playful manner. With her metamorphosis into the plant, Luzia Simons shows another transfer that questions the being itself. What remains is a further hint of irrepressible, profane beauty, which in its quasi-scientific systematization, not much different than the staged exuberant splendour of the "Stockage" pictures, points to the infinite diversity of nature and the constant change of life par excellence. (Günter Baumann)
Credits
Work:
Luzia Simons | Blacklist (2013 - 2015)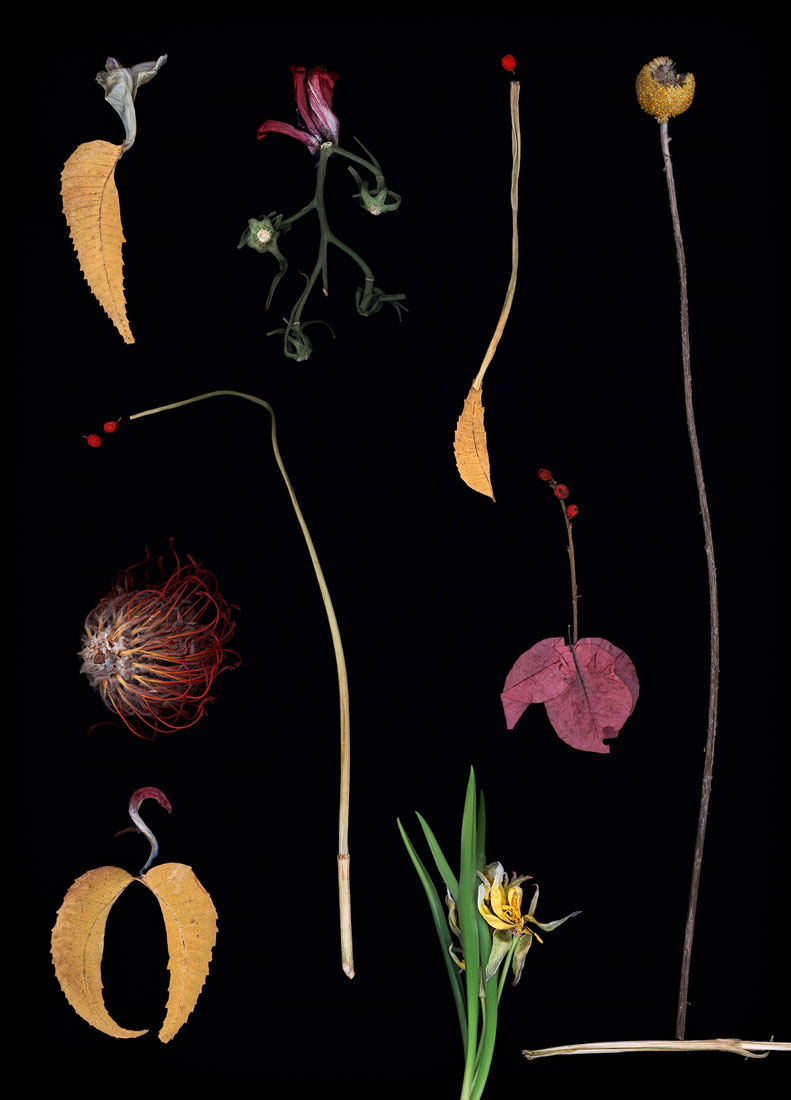 Luzia Simons | Camera Obscura (1986 - 1997)
Luzia Simons | Camera Obscura (1986 - 1997)
Luzia Simons deliberately makes use of an instrument related to the pinhole camera. It is a photographic technique from its early archaelogical period. She makes targeted use of its conceptual and aesthetic qualities. The techique has a potential effect in changing the image in terms of fragmentation and also locking events in time – it creates a momentum that plays with the idea of changing the future of the captured events. The pinhole-camera-method directs gaze and light to a detail in the center, while the rest of the picture disappears into the velvety surrounding darkness. Body parts with their subtle progressions and curves, but also plants and fruits, stand in a caraveggesque darkness while at the same time dramatically emphasized by the light. The photographer's gaze, regardless of the object, is always shaped by the erotic appropriation of the world. (Peter Weiermair)
Credits
Work:
Luzia Simons | Camera Obscura (1986 - 1997)