About
After the war, I grew up with my grandmother in the Elbmarsch in a little farm. In the village behind the dike directly at the Elbe, I was called Wechselbalg. I felt isolated and underchallenged and tried to leave the village as soon as possible. At the beginning of the 60's I moved to Hamburg and had to work in various professions to earn money, e.g. in the operating theatre of an accident doctor at the harbour. In 1967 I began my studies of painting and graphics at the Hochschule für Bildende Künste in Hamburg with professors Hans Thiemann, Kurt Kranz, Rudolf Hausner and English pop artists Alan Jones and David Hockney. I completed my studies in the master class of the Academy of Fine Arts in Vienna with Professor Anton Lehmden. In 1975 I broke away from the traditional techniques and went public with a "permanent demonstration". At the same time, I made my first photo sewings, photo etchings and photo sewings. My daughter was born in 1978 and my son in 1980. The pregnancies, births and growing up of the children in relation to my person I have included in my work in video performances, photo works and large tableaux. The confrontation with the problematic of art/ Children dragged on for years and became an existential topic for me. Since the 90's I have continued to work on the themes of generational succession, age, violence, the image of the body and the search for one's own roots.
Statement
"MY MOST IMPORTANT AIM IS TO INCLUDE BODILY PROCESSES IN MY WORK IN ORDER TO CONNECT BODY AND SPIRIT AS EQUAL PARTS." "I think that this restlessness which is a necessary part of all artistic processes, this endless searching and restlessness – this is what drives me on and makes me feel alive." "For me, it is important to gain more authenticity and directness through self-representation, but it is even more important, that I can go farthest with myself." "My work is not created in a vacuum. I don't need to visit fare-flung places to find inspiration. Often, I find inspiration in the things and people closest to me."
Education
1972 - 1973 | "Bildende Kunst", Meisterklasse, Akademie der Bildenden Künste Wien (AT)
1967 - 1972 | "Bildende Kunst", Hochschule für Bildende Künste, Hamburg (DE)
Institution (Work Experience)
Lehraufträge, Workshops und Vorträge an verschiedenen Institutionen sowie der Hochschule für Gestaltung,Offenbach a. M. / Fachhochschule Bielefeld / Universität Köln / Internationale Sommerakademie für Bildende Kunst, Salzburg / Universität, Flensburg / Technische Universität, Darmstadt / Johannes Gutenberg Universität, Mainz / Kunstakademie Braunschweig / Hochschule Darmstadt / Freie Akademie Nürtingen / Institut für Philosophie Darmstadt / Goethe Universität Frankfurt am Main sowie der Hochschule für Grafik und Buchkunst, Leipzig.
Selected Awards
2016 | Johann-Heinrich-Merck-Ehrung der Stadt Darmstadt (DE)
2011 | Marielies Hess-Kunstpreis, Frankfurt a.M. (DE)
2000 | Wilhelm-Loth-Preis, Kunstpreis der Stadt Darmstadt (DE)
1998 | Maria Sibylla Merian Preis, Hessisches Ministerium für Wissenschaft und Kunst, Wiesbaden (DE)
1989 | Arbeitsstipendium des Kunstfonds eV., Bonn (DE)
1986 | Preisträgerin des Wettbewerbs "Kunst im Öffentlichen Raum", Zentralkrankenhaus, Bremen (DE)
1984 | Stipendium Villa Massimo, Rom (IT)
1982 | Werkstipendium des Kunstfonds eV., Bonn (DE)
1973 | DAAD Stipendium, Mailand (IT)
Selected Exhibitions/Publications
2019 | Scottish National Gallery Of Modern Art, Edinburgh (GB)
2018 | Frieze Masters, London (GB)
2018 | Richard Saltoun Gallery, London (GB)
2017 | ZKM | Zentrum für Kunst und Medien Karlsruhe (DE)
2017 | MUMOK Museum Moderner Kunst Stiftung Ludwig (AT)
2017 | Galerie Anita Beckers, Frankfurt a.M. (DE)
2016 | MOCAK – Museum of Contemporary Art, Krakow (PL)
2007 | MOCA -The Museum of Contemporary Art, Los Angeles (US)
2006 | Institut Mathildenhöhe, Darmstadt (DE)
1999 | Stefan Stux Gallery, New York, (US)
1995 | Hessisches Landesmuseum, Darmstadt (DE)
1994 | Museum für Kunst und Gewerbe, Hamburg (DE)
1985 | Centre Georges Pompidou, Paris (FR)
1984 | Heidelberger Kunstverein, Heidelberg (DE)
1983 | Frankfurter Kunstverein (DE)
1978 | Hamburger Kunsthalle (DE)
1970 | Kunsthaus, Hamburg (DE)
Works
Annegret Soltau | BodyOpenings (2011 -2017)
Annegret Soltau | BodyOpenings (2011 -2017)
The pictures "BodyOpenings" present a particularly intimate subject. They show parts of the female body between outside and inside, become manifest in body-islands. All of my sewn photographs have a face and a reverse side. On the reverse side of my body collages, the stitches are to be seen; they show the body quasi in an abstract form. Into the reverse side of the series "KörperÖffnungen" I sewed small rags of text arbitrarily taken out of the Book of Ruth of the Bible as well as the Sura about Women of the Koran. The work "BodyOpenings" is exclusively based on my own body and the body of a friend. Like with a magnifying glass we scrutinize our aging body. I consider this work also as an appeal concerning the fragility of the achievements of our generation.
Credits
Work:
Annegret Soltau | BodyOpenings (2011 -2017)
Copyright:
Annegret Soltau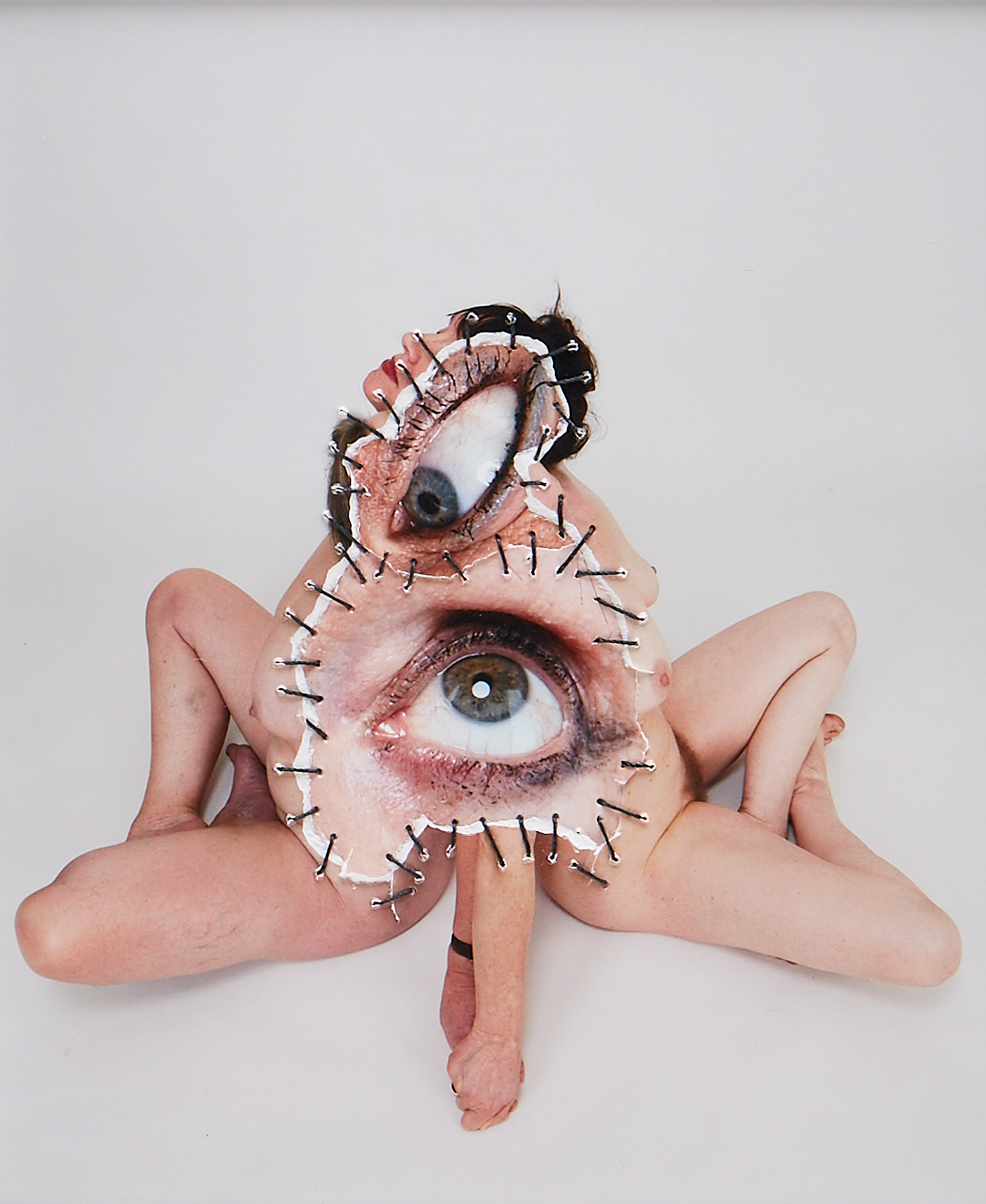 Annegret Soltau | Self (1977)
Annegret Soltau | Self (1977)
These are my projects using thread in the context of photography. I`m using gray silk thread, I overstitched myself and created a filigree of threads over my own body. The reverse side shows the traces of the work on the front side as a spontaneous haptic drawing, an unconscious by-product of the main piece.
Credits
Work:
Annegret Soltau | Self (1977)
Copyright:
Annegret Soltau